Askja Caldera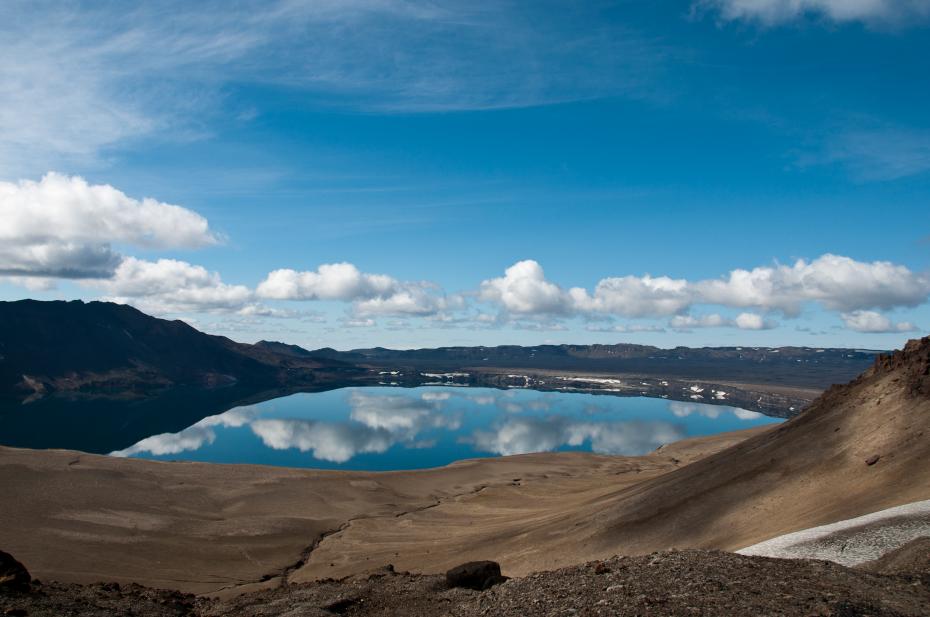 Still and calm lies lake Öskjuvatn (de) in Askja (de) Caldera. Being 220m deep it was formed only recently, 1875, in a large eruption. In the following 32 years it slowly filled with water, until it reached todays levels.
Öskjuvatn is cold, but on the shores close to Viti (de) you can dig your feet into the ground and sense some fleeting warmth. Viti with its warm, milky blue water is a popular tourist attraction.
The caldera is often visited by scientists measuring the rise and fall of the ground as magma flows in and out of the magma chamber underneath.
Other measurements include micro gravity measurements (example) to calculating the mass of moving magma based on changes in gravity. Metering devices are calibrated in the kitchen at Herdubreid (de) hut where a small pin shows the point where gravity is "normal".
Updates April 2012: The Iceland Volcano and Earthquake blog reports that Öskjuvatn was ice free during winter, even though Myvatn (de) was frozen over. This might signal changes in geothermal activity. (more Updates: 1 and 2)
Island Blog reports likewise.
Tags: Askja, Iceland
Add a Comment Trackback